Congratulations to Jackie Coburn who has been hired to lead the Horizon Huskies Softball program.  Jackie is a local product who graduated from North Canyon HS, earned the state Gatorade Award as the top player in Arizona then took her skills south to the University of Arizona where she played 2002-2005 and learned from the greatest coach in the game Mike Candrea.  Now she wants to pass her knowledge down to the Lady Huskies who have finished 5th 2012 & 4th 2013 in state the previous 2 seasons.  Jackie is looking forward to doing what she does best teaching  dedicated players what it takes to get to that next level of competing and playing for a State Championship which has been elusive to the program since 1997.  Jackie is and always has been a Student of the game.  JC will be a great role model and asset to the Husky program, bringing a wealth of experience on & off the field along with lots of energy and the ability to build a more competitive program through teaching, dedication, hard work & fun for all skill levels involved. 

Jackie Coburn
University of Arizona 2002-2005
2002 All Tournament Team College World Series

University of Arizona Top 10 Career Record Holder in Home Runs-52

Played 2 years of professional softball for the Arizona Heat 2005-06

2005 Arizona Heat Rookie of the Year

Arizona

Gatorade High School Player of the Year

at North Canyon High School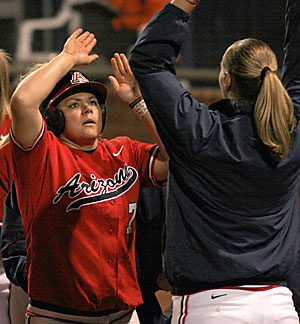 Senior catcher Jackie Coburn celebrates after hitting a game-winning homerun during a game against Northwestern. Arizona won the 2005 Pepsi Classic game 3-2 in extra innings.
We wish Jackie all the Best, check back often for more information concerning Huskies Softball at: www.HorizonSoftball.org or follow us on Twitter @HorizonSoftball 
 Go Huskies!