Congratulations to Horizon's own T Statman for being named 2014 1st Team Softball All-Americans by StudentSports.com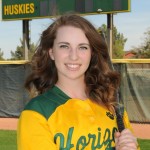 With close to 400,000 athletes playing high school softball, you have to be pretty special to stand out from the crowd.
After another exciting year of competition, we honor those players we think have had an amazing year and have earned the right to be called a 1st Team All-American.  We have players from 18 states represented with many having GPA's close to, at or over 4.0.
The criteria for selection to the StudentSportsSoftball.com All-American team includes a combination of all the following factors:
 performance on the field
 overall contribution to the team's success
 talent and skills (athletic and softball-specific)
 off the field success (academic, community, charity, etc.)
Congratulations to all the players who excelled and earned the right to be called an "All-American!"
Click here to see the 2nd Team All-American list
***
1st Team StudentSportsSoftball.com All-Americans
PITCHERS
Jr. Taran Alvelo Bloom-Carroll (Carroll, Ohio)
The Washington commit and Gatorade State Player of the Year was overpowering this year leading her team to the Ohio Div. III finals where she pitched 13 2/3 innings of no-hit ball but lost on an unearned run despite 24 K's. In the semi's she pitched a no-hitter with 17 strikeouts. She had a 25-3 record, a 0.52 ERA with 380 strikeouts for the year.
Sr. Katie Brignac John Curtis (La.)
The Memphis signee went 22-2 with a 0.28 ERA as part of the Class 3A state championship team. She struck out 294 in 148 innings with only 39 hits allowed all year and was named the Gatorade State Player of the Year.
Sr. Kaylee Carlson Pacifica (Garden Grove, Calif.)
In one of the most clutch performances of the year, the North Carolina signee pitched 12 shutout innings to lead the Mariners to a CIF So. Section Div. I championship and a top 5 national ranking. The senior went 22-3 with two saves, 14 shutouts and a 0.55 ERA and allowed only 14 extra base hits in 598 batters faced. She also graduated with a 4.12 GPA.
Sr. Ally Frei High Point (Sussex, N.J.)
Any accomplishment possible for a pitcher, this Boston College-bound standout has done. Gatorade Player of the Year in 2013, she's the New Jersey career leader in strikeouts (1,426), has won a state title and even pitched a "perfect perfect" game in which she struck out all 21 batters in a game. Her strikeout-to-walk ratio was 17-to-1 (457 K's to only 27 walks).
Sr. Johanna Grauer Amador Valley (Pleasanton, Calif.)
California's "Miss Softball" as chosen by CalHiSports.com, Grauer led Amadaor Valley to an undefeated season and the No. 1 national ranking by MaxPreps.com and No. 2 in the StudentSportsSoftball.com FAB 50. She went 27-0 in the circle with an ERA of 0.51 and 290 K's and only 27 walks in 191.1 innings pitched. She's headed to UCLA.
Sr. Meghan King St. Thomas Aquinas (Ft. Lauderdale, Fla.)
The lefty went 20-2 this year with a 0.25 ERA while striking out 226 and allowing only 19 walks in 142.2 innings as she led her team to a second straight Class 7A title, both of which were 1-0 wins. The Gatorade State Player of the Year announced this week she is headed to Florida State this fall. She graduated with a weighted 4.0 GPA.
Jr. Taylor McQuillin Mission Viejo (Calif.)
The Gatorade National Player of the Year also led her team to the No. 1 ranking in the StudentSportsSoftball.com FAB 50 rankings after she allowed only one hit in a nine inning state title game win. On the year she went 25-1 with a 0.72 ERA and 299 K's with only 17 walks in 164.2 innings. The lefty pitcher is headed to Arizona and had a 3.97 GPA.
Sr. Alexis Osorio M.L. King (Riverside, Calif.)
A finalist for California's "Ms. Softball," the Alabama signee was a strikeout machine, recording 358 K's in 205.1 innings while compiling a 21-4 record and 0.44 ERA (her team only scored one run in her four losses including the 12-inning Div. II title game 1-0 loss to Pacifica in which she had 16 strikeouts).
Sr. Paige Parker Truman (Independence, Mo.)
The lefty pitcher went 23-2 with a 0.25 ERA striking out 342 batters in 166 innings. She was a four-time 1st Team All-State honoree with state marks for most wins (93) and strikeouts (1,348). She signed with Oklahoma was the Gatorade State Player of the Year.
CATCHERS
So. Bailey Hemphill St. Thomas More (Lafayette, La.)
The young catcher powered her team to a state championship by hitting .630 with 17 home runs and 56 RBI. The Alabama commit was a 1st Team All-State 4A catcher for the second consecutive year and carries a 4.0 GPA in the classroom.
Sr. Gwen Svekis St. Thomas Aquinas (Ft. Lauderdale, Fla.)
Of the best defensive catchers in the country, she's also a danger at the plate as the All-State backstop hit .479 with 12 homer runs and a 1.692 OPS. In one playoff stretch, the Oregon signee went 9-for-10 with seven homers. She also has a 4.6 GPA.
INFIELDERS
Jr. Kaitlyn Alderink Keller (Texas)
The shortstop is a lefty triple-threat hitter who hit .487 on 58 hits and also scored 54 runs. A member of the Fort Worth Star-Telegram "Super Team," she has committed to Texas A&M and has a 101.74 GPA and 32 ACT score.
Sr. Alyssa Angel La Grange (Texas)
The multi-threat shortstop helped led her team to a 40-2 record and Texas Class 3A state championship by batting .578 with 13 home runs, 71 RBI, a .636 on-base percentage and a 1.164 slugging percentage. The All-State pick also went 39-for-39 on the bathpaths and is headed to Texas. She also graduated in the top 15% of her class.
Sr. Caitlin Charlton Westminster Christian (Palmetto Bay, Fla.)
The athletic infielder has started at the varsity level since the 7th grade and this year earned her sixth All-Dad County selection and fourth All-State honor. She led her team to a 28-3 record and No. 24 ranking in the FAB 50 by hitting .540 with 12 home runs, 51 RBI and a 1.135 slugging percentage. The Baylor signee also compiled a 4.86 overall GPA.
Sr. Julia DePonte Vacaville (Calif.)
The Washington signee led her team to a 29-1-1 record, CIF Sac-Joaquin Section Div. I title and No. 12 FAB 50 ranking by hitting .516 with 39 RBI, 33 runs, seven triples and seven home runs and was a finalist for Calif. "Miss Softball."
Sr. Aidan Falk Our Lady of Mercy (Rochester, N.Y.)
The Michigan bound first baseman set a state record with 19 home runs this season and also holds the career mark with 45. She batted .667 with an on-base percentage of .761 and knocked in 52 RBI and scored 41 runs in only 21 games. She also has a 95 GPA.
Sr. Meghan Gregg Flint River Acad. (Ga.)
The shortstop hit .766 with seven home runs, 31 RBI and an on-base percentage of .830 as she led her team to the Class AA state championship. The Gatorade State Player of the Year has signed with Tennessee and was also a five-time All-State selection.
Sr. Jazmyn Jackson Archbishop Mitty (San Jose, Calif.)
One of the best all-around athletes in the country, she led Mitty to a 30-1 record and No. 5 FAB 50 finish. The Cal signee hit .538, a team-leading 49 hits which included 14 doubles, seven triples and eight home runs.
Sr. Kayli Kvistad Columbia (Lake City, Fla.)
The classic power-hitting lefty corner infielder, the Univ. of Florida signee won the Class 6A Player of the Year award for the second straight year after hitting .609 with 12 home runs and 42 RBI. She ended her career with 44 home runs and should have the chance to play early for the National Champion Gators.
Sr. Jenna Lilley Hoover (N. Canton, Ohio)
Rated as the No. 1 senior in the Class of 2014 by StudentSportsSoftball.com, the Oregon signee will go down as one of the greatest players ever out of Ohio after leading Hoover to a fourth straight Div. I state title. She was named All-State again, hitting .482 this season (.576 career average) with 17 doubles and 31 walks. The third baseman/shortstop struck out only 19 times in 478 career plate appearances while walking 117 times, an amazing 5-to-1 walks-to-strikeout ratio.
Sr. Kylee Perez Alhambra (Martinez, Calif.)
A five-tool player considered one of the top defensive infielders in the country, she also did it at the plate hitting .481 with six home runs for a 25-2 team that won the North Coast Section Div. II title. She's signed with UCLA.
So. Shannon Rhodes Brewer (Ft. Worth, Texas)
One of the top prospects in the 2016 class, the Oregon commit hit .462 with 60 hits, 53 runs, 33 RBI and went 28-for 29 to earn Dallas/Fort Worth All-Metroplex 1st Team honors.
Jr. Vada Sherill Alexander Central (Taylorsville, N.C.)
The sparkplug who helped Central finish 35-0 and a top 3 national finish, she had 60 hits, 60 runs, an on-base percentage of .597 and went 51-53 in steals. Named the Gatorade State Player of the Year, the leadoff hitter also carries a 3.94 GPA.shippe
Jr. Kiana Sherlund Fairfax (Va.)
A second base triple threat lefty who hit .630 with a 1.041 slugging percentage, she stole 26 bases and went 17-for-24 with runners in scoring position. The Washington Post All-Met 1st Teamer also had a .991 fielding percentage (116-for-117) and is committed to North Carolina. In the classroom she has a weighted 4.0 GPA.
Sr. Vanessa Shippy Lake City (Coeur d'Alene, Idaho)
A smooth fielding second baseman, she also is strong at the plate where she hit .622 with 40 RBI, 58 runs scored and 31 steals. The Oklahoma State signee won Gatorade State Player of the Year honors after her good friend and teammate Casey Stangel won it at her high school the three previous years. The senior finished with a 4.16 weighted GPA as well.
OUTFIELDERS
Sr. Jessica Adell Ballard (Louisville, Ky.)
The five-tool player is the proto-typical centerfielder with speed (40 steals) to cover a lot of ground. Hit .591 with 53 runs and a .614 on-base percentage. Tennessee-bound, she was 1st Team All-State and voted "Miss Kentucky Softball."
Sr. Emily Griggs Maize (Kan.)
The speedy outfielder hit .611 with an on-base percentage of .676 to earn 1st Team All-State honors, her fourth year in a row. The LSU signee holds state career records for hits (181) and runs (151) and as a senior didn't make an error all year while throwing out seven base runners. She signed with LSU.
Jr. Amanda Lorenz Moorpark (Calif.)
The outfielder may have the best pure swing in the country and is considered by many—including StudentSportsSoftball.com—as the top junior prospect in the nation. The Florida commit hit .642 this year with eight home runs and 22 doubles and has good speed and off-the-chart competitiveness and a desire to win. So good, she's been intentionally walked before as a lead-off hitter.
Jr. Alyssa Palomino Mission Viejo (Calif.)
One of the most dangerous power hitters at the high school level, she clubbed 17 home runs this year after hitting 18 as a junior. The Arizona commit was voted as the Orange County (Calif.) Player of the Year by OCSidelines.com after batting .506 with 34 RBI for the No. 1 team in the FAB 50 rankings.
MULTI-POSITION
Sr. (P/1B) Paige Lowary Dallas Center-Grimes (Ia.)
The two-time Gatorade State Player of the Year went 27-2 with a 1.21 ERA and 244 K's in 191 innings pitched. At the plate she hit .424 with a .510 on-base percentage. She's headed to Missouri this fall and graduated with a 3.97 GPA.
Sr. (P/1B) Bre Macha Red Mountain (Ariz.)
The senior was the winning pitcher in the state championship all four years of her high school play and as a junior led her team to the StudentSportsSoftball.com No. 1 ranking in the final FAB 50 ratings. This year she went 22-5 with a 1.02 ERA with 256 K's in 186 innings. At the plate the Arizona State signee hit .365 with a .563 slugging percentage.
Jr. (P/3B) Darby Bishop Newton Co. (Decatur, Miss.)
The pitcher/third baseman went 21-0 in the circle with a 1.53 ERA and also hit .621 with 44 RBI and helped her team to a repeat Class 4A title. Committed to Jackson State and was the Gatorade State Player of the Year and Mississippi "Miss Softball."
Sr. (P/IF) Steph Thomas Immaculate Heart Acad. (Wash. Township, N.J.)
Ranked No. 1 all-time in New Jersey in career victories (113) after going 31-2 with a 0.40 ERA, 295 strikeouts and only 17 walks in 191.2 innings. She's headed to Lafayette and was named as the Gatorade State Player of the Year thanks in part to a 4.19 GPA.
Sr. (P/UT) Kristen Clark Foster (Richmond, Texas)
The pitcher/first baseman was a double threat, throwing 13 shutouts, seven no-hitters and three perfect games (including striking out every batter in a 15 hitter, 5-inning ruled game) while hitting .544 with 11 home runs, 39 RBI and a 1.078 slugging percentage. The Texas signee also graduated in the top 7% of her class.
So. (P/UT) Miranda Elish Crown Point (Ind.)
The sophomore was the Gatorade State Player of the Year as a sophomore and was also named 1st Team All-State and was Conference Player of the Year after going 29-1 with a 0.31 ERA and hitting over .480. The Oregon commit also led her club team to a national championship (16U) last summer. She has a 3.64 GPA as well.
Jr. (P/UT) Brittany Finney Bishop Carroll (Wichita, Kan.)
The Oklahoma commit has emerged as one of the top pitchers in the country and along with Jessi Haffner led BC to a fourth Class 5A state title. She went 12-0 in the circle with a 0.46 ERA and allowed only three runs all year while on offense hit .553 with 47 RBI and knocked a team-leading 12 home runs.
Sr. (P/UT) Jessi Haffner Bishop Carroll (Wichita, Kan.)
The other half of the "Dynamic Duo" at Bishop Carroll, the Oklahoma State signee compiled a 13-0 pitching record with a 0.49 ERA and hit .616 and lead the team with 20 doubles, 49 RBI and a 1.356 slugging percentage. So dominant were the Golden Eagles that they outscored opponents 408-15.
Sr. (P/UT) Lele Ocasio Harmony (Fla.)
You know you've done something noteworthy when your high school retires your number… so it was with this outstanding athlete who pitched her team to the 7A state championship game with a 24-3 record, a 0.60 ERA and 250 K's and only 18 walks in 152 innings. The Florida commit also hit .432 with seven homers and was 15-for-15 in steals for the No. 10 ranked team in the final FAB 50.
Jr. (P/IF) T. Statman Horizon (Scottsdale, Ariz.)
The Arizona commit was a force in the circle recording 289 K's and winning 20 games with a 1.22 ERA while also batting at .515 with 52 hits, 25 RBI, a .595 on-base percentage and a 1.437 OPS. Off the field she has a 4.0 GPA and is a Black Belt in TaeKwonDo.
Jr. (P/UT) Tara Trainer Lebanon (Ohio)
The Buckeye State star pitcher, who missed most of her sophomore year after a near-fatal car crash, had a dominating junior year as she went 19-1 with a 0.45 ERA and 256 strikeouts for the No. 20 team in the nation. The Indiana commit led her team to the semis where they lost to eventual state champ Hoover (N. Canton).
Sr. (P/UT) Miranda Viramontes Chino (Calif.)
The Utah signee led the Cowgirls to the CIF So. Section Div. II title game where they lost to the nation's top team, Mission Viejo, in nine innings. She won 23 games with a 0.28 ERA and 298 K's in 174 innings while hitting .415 with 10 homers and 36 RBI.
– See more at: http://www.studentsports.com/softball/2014/06/27/1st-team-softball-all-americans-627/#sthash.mCet1Gtd.dpuf