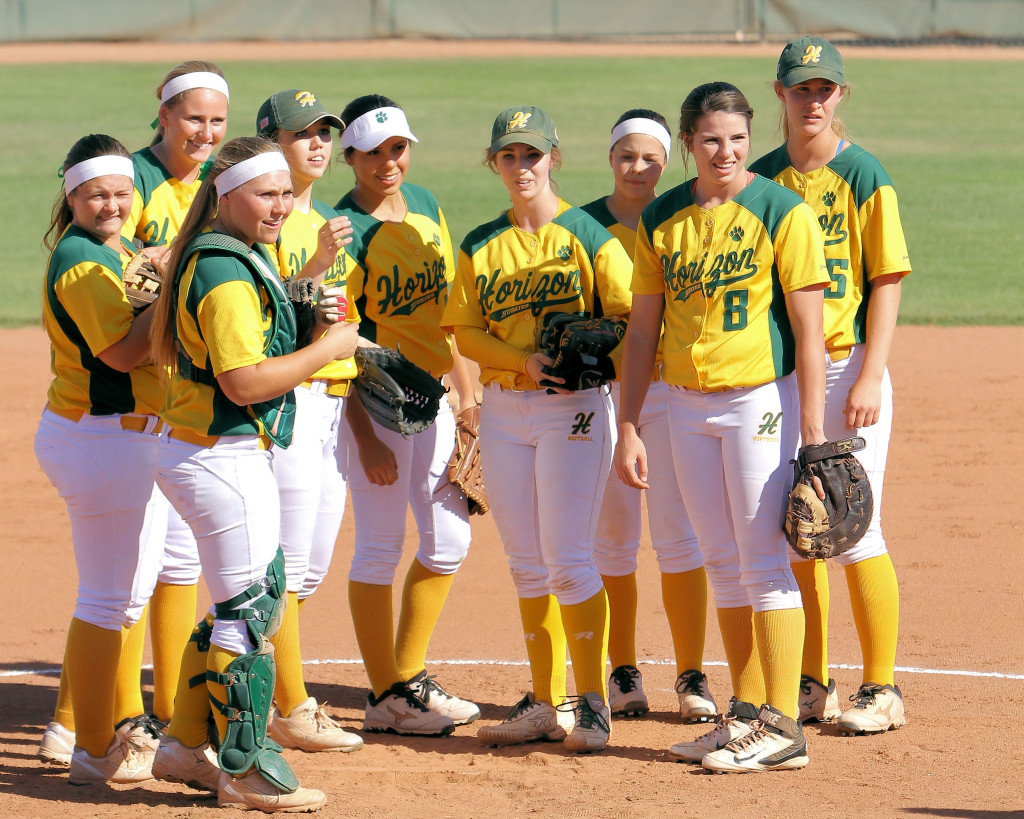 The parental urging early in T Statman's softball career at Horizon consisted of the terms "spins and spots". A constant reminder from the bleachers by her father to help with her pitching and focus. Parental advice as strikeout No. 1,000 drew close on Monday was "Take a deep breath".
Statman wasted little time in collecting that milestone 1,000th K Monday afternoon. It took her and the Lady Huskies a bit longer to secure a 6-3 victory over Boulder Creek in a Division I softball game between certain postseason contenders at Horizon.
Statman, the mainstay in the circle for Horizon the past four years, needed three strikeouts vs. Boulder Creek to reach 1,000. She fanned the first two hitters in the top of the first — looking and swiinging, respectively. That was it for the first inning, but four pitches into the second inning Statman rang up cleanup hitter Aubrey Ledbetter looking for the nice, round number.
The game was stopped briefly to recognize Statman's feat as the first pitcher in Arizona to fan 1,000 hitters since the pitching rubber was moved back from 40 feet to 43 feet. She was surrounded in the circle by teammates and coach Jackie Coburn, who took the ball that got No. 1,000 to the dugout for a keepsake. Teammates then offered a brief, echoing chant of T Stat, T Stat, T Stat, T Stat. Statman also is only the third high school softball pitcher nationally to record 1,000 strikeouts from 43 feet since the distance was changed five to six years ago depending on the state.
"I wanted both outs and strikeouts, but at the beginning I was looking for strikeouts," Statman, who is headed to UofA in the fall with softball and academic prowess in tow, said. "It feels awesome to get that many. But the thing about strikeouts is if you don't win the game, they don't help much. It is super cool because of the change (40-to 43). That's really changed the game a lot."
Statman's win was the 80th of her career in which she's averaged 1.5 strikeouts per inning pitched.
"Getting that many strikeouts wasn't a blip in my mind," Statman said when she first entered the circle for Horizon in the 2011-2012 season. "It's something that just happened."
Statman went the distance, finishing with 10 strikeouts. She allowed six hits and trailed briefly 2-0 after giving up only one hit the first three innings. That hit was a sharp, two-run single up the middle by Boulder Creek's Hunter Raum in the third. An error and hit batter were the runners that scored on Raum's hit. Raum drove in all three runs, adding an RBI single in the fifth that left Horizon with a 4-3 lead.
Horizon had trouble scoring runs early despite an abundance of hits. The Lady Huskies squeezed out two runs in their half of the third on a double by Jordan Wehr that tied the game. Horizon had nine hits after three innings.
Horizon nabbed the lead for good in the fourth with a two-out, two-run double by Jenna Beeso. Beeso added her third and fourth RBI of the game in the sixth with a single. Horizon finished with 16 hits — three each for Beeso, Wehr and Kaila Jacobi and two apiece for Gabby Moreno, Statman, and Chebsie Oden.
Boulder Creek was No. .9 in the D-I power-rankings released Monday morning and Horizon was No. 12. Boulder Creek is now 16-8 overall and 8-6 in power-ranking games. Horizon is 20-6 overall and 10-3 in power-ranking games. Ten power-ranking wins is usually enough to qualify a team for postseason. The Lady Huskies have five games left to improve and try to move in to the top 8. Top-8 finish allows for a first-round tournament bye and second-round home game. Boulder Creek has four games remaining.
Click on the links below to view the Video for Ks #998, 999 & 1,000
Click on the links below to view the Video for the Team Celebration
Celebration Announcement             Team_Celebration Moment
Congratulations on these 2 great Milestones in HHS & Arizona Softball History

Please also go to www.FullcountSoftball.com for article & pics: 
(16-8, 3-5 away)

(20-6, 5-0 home)
Batting
Pitching