Softball: Perry goes to 9-0 with 9-6 win over Horizon
March 1, 2018 by Les Willsey, AZPreps365
---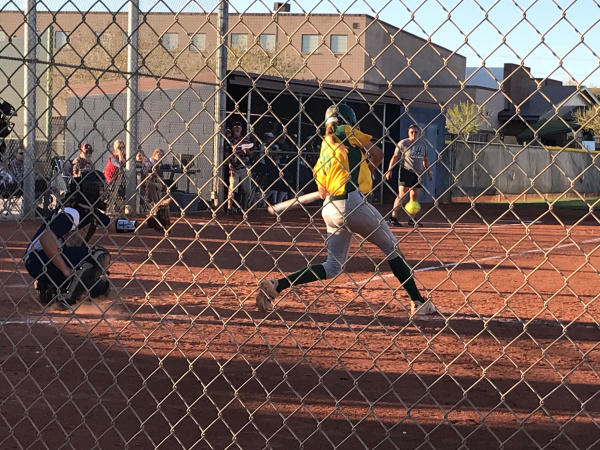 Horizon's Spencer Prigge takes her final at-bat of the game Thursday vs. Perry. (AzPreps365 photo)
The prep softball season is nine days old and Perry High has a win for every day the season is long so far. Victory No. 9 occured on the Pumas home field Thursday as they outlasted Horizon, 9-6, in a 6A non-region contest.
Perry won six of its nine games in claiming the title of Red Mountain's Lion Country Classic last weekend. This week they've registered a trio of power-ranking wins. About the only thing coach Rob Hehe has a gripe about is the consistency factor.
"We've been a littile Jekyl and Hyde," Hehe said. "We scored 38 runs in our first two games, then the bats cooled down. We didn't play that well today, but hit the ball well and that carried us. We stranded a lot of runners (eight) and our defense wasn't that good."
The most consistency evident thus far has come from junior pitcher Saige Stutz.  Stutz earned her fourth win in six days with a complete game against Horizon. Stutz scattered 10 hits, walked one and struck out six. She bested Chaparral, 2-1, in the title game of the Lion Country Classic last Saturday. Next she gave up one run in the Pumas' first power-ranking game of the year Monday vs. Xavier Prep and blanked Desert Ridge on four hits on Tuesday.
"Saige has been awesome," Hehe said. "She's gone out and done what see always does. She hits the corners. It would have helped if we had played better defense today."
Perry cranked out 13 hits against Horizon ace Morgan Leinstock. Perry catcher Piper Lujan led the attack going 4 for 4. Sydnee Smith had two hits, reached base in all four plate appearances and scored four times. Chloe Krason collected three hits and Jillian Lagasca drove in three runs one hit in three productive plate appearances.
Horizon (5-3-1), which posted a 4-1-1 in Sunrise Mountain's season-opening tournament last week, didn't play well again defensively in losing its second power-ranking game of the week. The Huskies made five miscues in a 10-0 loss to Hamilton on Monday and made four more Thursday. Leinstock struck out nine and walked two in taking the loss.
Top hitter in Thursday's contest for Horizon was Spencer Prigge, who homered twice depending on the scorebook you use. The left-handed hitting Prigge hit what Horizon scored as an inside-the-park home run in the first inning to left field and a two-run, no doubter over the left-field fence in the fifth. Prigge was 3 for 4. Teammate Neeley Bell was 2 for 4 with a pair of RBI.