Wilson / DeMarini and The Horizon Lady Huskies Softball Program are Proud to Announce a Partnership in which we will be participating in Wilson / DeMarini Line Drive Program again for the 2016 season.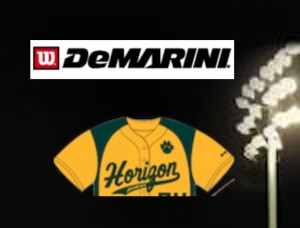 The Lady Huskies will be wearing Wilson/DeMarini/Louisville products for practice & games this season again per Coach JC.  This will allow the Lady Husky Softball program to earn DeMarini bucks this year on all purchases from the Lady Husky / DeMarini store for FREE GOODS for the Program.
The Big question is:  Is it going to cost more this year than last year?  If you have been in the program and don't have to purchase a New Helmet, Belts, Socks or Green under game shirt then the Answer is NO!  Those New to the Lady Husky program will still need to purchase a Fitted Helmet, 2 belts & 2 pairs of socks + what ever level team mandatory items you need to play and practice on the field as others have in the past and those costs are inline with the costs others have paid the past few years.
If you were part of our program last year, you will NOT need to purchase a New Helmet, belts, socks or Green under game shirt unless you need replacements because of wear and tear saving you $$.  The benefit for the program is, the Lady Husky Softball program is earning FREE GOODS this way and it's not costing any more than it did other years to outfit the students or parents in the program and it will benefit the students in the long run.
All Players will need to purchase the New DeMarini w/Embroidery "H" Fitted Game Pants and this years Wilson practice Tee versions per the level team you play on. (current players in the program last year if your pants don't have holes in them do not have to purchase new ones)
All players will be Sized for these New Fitted DeMarini Pants, Tops, Helmets & Under Game Shirts if needed Wednesday February 11th after tryouts are over that day.  You can go to the Official Team Store starting Thursday night when you find out what team you will play on, ie: Freshman, JV or Varsity and have been properly sized and order the gear you need and pay by Credit Card at: https://hhssoftball.itemorder.com/sale  all purchases need to be made by Monday night at midnight February 15, 2016.
At the Player / Parents meeting Friday February 12th Coach Jackie will hand out a reminder to purchase all Gear required to practice & play.
The Lady Huskies team store will also have Official Wilson / DeMarini Fan Gear for parents and students that want to help support the Softball program. (everything purchased not only Wearables but DeMarini Bats, Gloves and Equipment in the store goes towards DeMarini Bucks for the Program, so please purchase your Fan gear or equipment at discount prices to help out the program.  Wear our colors proud, Go Huskies!)

1) All physicals and paperwork needs to be completed and turned in on Feb 5th
2) Tryouts are February 8th thru 11th 2:30-4pm
3) first team practice on February 12 2:30-4pm
4) Feb 12th Player/Parent meeting at 6-7:30pm (1 parent is REQURIED per player)
5) Feb 13th Field Clean Up Day
6) Sunday, Feb 14th all Uniform gear must be purchased online by midnight before store closes (based on team you are on)
7) Once you know what team you are on…you need to pay the participation fee (online) by FEB 15th by 230 pm