EVERYONE NEEDS TO EAT or at least EAT DESSERT!
Please join us after the Deer Valley game on Monday for some great food and dessert at Culver's Cave Creek 🙂
Help support our Huskies Softball Program and join us any time during the day or night Monday March 11th for this great fundraiser 🙂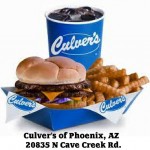 Date:  Monday, March 11, 2013
The Husky program will get a portion of sales all day long  you don't need to say or have any special papers just come on in and enjoy the food!   The Varsity Husky girls will be  in Uniform between the hours of 5pm – 8pm come by and wish them good luck on their season.  
If you don't want a meal just drop on by for the Flavor of the Day: