Congratulations to Horizon's own "T" Statman on being named to the MaxPreps 2014 All-American 2nd Team this past Softball Season!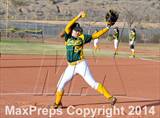 P – Jess Cummings, Northern (Owings, Md.), Senior
The 2014 season wasn't as magical as 2013 when Northern won the MaxPreps mythical national title and Cummings went unbeaten. However, she led Northern to another state title and won 21 games with a 0.52 ERA. She struck out 260 in 142 innings. Her next stop is Penn State.
P – Tera Blanco, Marina (Huntington Beach, Calif.), Senior
A perennial all-CIF Southern Section selectee, Blanco has signed with Michigan. She went 22-5 with 228 strikeouts and a 1.14 ERA. Blanco hit .446 and finished with 23 RBIs and drew 32 walks to finish with a .622 on-base percentage.
P – Breanna Macha, Red Mountain (Mesa, Ariz.), Senior
The senior led Red Mountain to four state titles and was the winning pitcher in the championship game each year. This year she went 22-5 with a 1.02 ERA with 256 strikeouts in 186 innings and hit .365 with a .563 slugging percentage. She has signed with Arizona.
P – Monique Garcia, Coronado (Lubbock, Texas), Senior
Named the Texas Sportswriters' Large School Player of the Year, Garcia led Coronado to the state semifinals. She was 25-2 and batted .420. She will attend North Texas.
P – Taylor Weaver, Romeo (Mich.), Senior
Weaver lost just six games in her high school career (winning 95) and went 25-2 as a senior. She struck out 275 in 178 innings and posted a 0.67 ERA. She was named Michigan's Gatorade State Player of the Year. The MLive Player of the Year, she will play at Central Michigan.
P – Alexis Osorio, King (Riverside, Calif.), Senior
Osorio recorded 358 strikeouts in 205 innings while compiling a 21-4 record and 0.44 ERA (her team only scored one run in her four losses, including the 12-inning D-2 title game loss to Pacifica in which she had 16 strikeouts). She was a finalist for California's "Ms. Softball." She will attend Alabama.
P – Katie Brignac, Curtis (River Ridge, La.), Senior 
Brignac went 22-2 with a 0.28 ERA and led Curtis to the 3A state title. She struck out 294 in 148 innings with only 39 hits allowed all year and was named the Gatorade State Player of the Year. She batted .544 with six home runs, 41 RBIs and an .823 slugging percentage. She has signed with Memphis.
P – Dale Ryndak, Downers Grove North (Ill.), Senior
With a 22-2 record, 219 strikeouts in 159 innings, a 0.52 ERA, 17 shutouts, one perfect game, one no-hitter, five one-hitters and only 10 walks allowed, Ryndak was named MySurbanlife Newspaper Group's Softball MVP. She also batted .446 with 10 home runs, 41 RBIs, 15 doubles and 22 walks. She has signed with Arizona State.
P – Korina Rosario, West Florida (Pensacola, Fla.), Senior
Rosario, who will play collegiately at Florida State, had a state-best 323 strikeouts (183 innings) to go along with a 0.19 ERA and a 28-1 record. She had four no-hitters, 18 shutouts and 25 complete games. She batted .564 and compiled 41 RBIs and 37 runs scored. She failed to reach base in only one game all year.
P – Aleshia Ocasio, Harmony (Fla.), Senior
Ocasio pitched Harmony to the 7A state final with a 24-3 record, a 0.60 ERA and 250 strikeouts with only 18 walks in 152 innings. The Florida commit also hit .432 with seven homers and was 15-for-15 in steals. She batted .565.
P – Hayley Copeland, Esperanza (Anaheim, Calif.), Senior
Another elite pitcher from Orange County, Copeland struck out 283 and went 23-4 as Esperanza won its fourth-straight league title. She will attend South Carolina.
C – Maddie McCracken, Olathe North (Kan.), Senior
It was a tough year for North (10-11), but McCracken committed just one error and batted .590 with 40 RBIs.
C – Jenavee Peres, Garden Grove (Calif.), Senior
Peres batted .662, drove in 49 runs and belted 14 home runs to earn second team All Southern Section honors. She was the top player in the Garden Grove League and named to the Orange County Register's All-Area team. She will attend San Diego State.
C – Ari Samaniego, Desert Edge (Goodyear, Ariz.), Junior 
Samaniego once again put up major stats: 16 homers, 15 doubles, 66 RBIs, .682 batting average, 1.582 slugging percentage and 2.299 OPS. With numbers like that, it's easy to understand why the Scorpions were 22-6.
IF – Tannon Snow, Chino Hills (Calif.), Junior
Snow collected 61 hits and drove in 58 runs to lead Chino Hills to a 30-win season. She scored 43 times and had 21 doubles and 14 home runs. She has committed to Washington.
IF – Julia Hollingsworth, Ennis (Texas), Junior
Named the Dallas Morning News Player of the Year, Hoillingsworth scored 83 runs in 44 games and batted .638 with 45 RBIs as Ennis reached the state 4A finals. She also stole 56 bases and has 101 steals in two seasons. She has committed to Tulsa.
IF – Kylee Perez, Alhambra (Martinez, Calif.), Senior
A five-tool player considered one of the top defensive infielders in the country, she also did it at the plate hitting .481 with six home runs for a 25-2 team that won the North Coast Section Division II title. She's signed with UCLA.
IF – Julia DePonte, Vacaville (Calif.), Senior
DePonte led the Bulldogs to a 29-1-1 record, CIF Sac-Joaquin Section D-I title and a MaxPreps national ranking by hitting .516 with 39 RBIs, 33 runs, seven triples and seven home runs. She has signed with Washington.
IF – Courtney Clayton, Glencoe (Hillsboro, Ore.), Senior
Clayton was named the Oregon 6A Player of the Year for the second time when she batted over .600 for the second-straight season. She will play at Texas-El Paso.
IF – Heather Bowen, Centennial (Las Vegas), Senior
A four-time all-state shortstop, Bowen led the Bulldogs (30-8) when she batted .558 with 12 home runs, 59 runs scored and 54 RBIs. She was the Gatorade State Softball Player of the Year as a sophomore and again as a senior when she had 20 doubles and a slugging percentage of 1.141. She has signed with Utah.
IF – Taylor Wike, Alexander Central (Taylorsville, N.C.), Senior 
The UNC recruit led her nationally ranked team to a state title and set a state record with 64 RBIs. She hit .639.
IF – Sydney Romero, Vista Murrieta (Murrieta, Calif.), Junior
Committed to Oklahoma, Romero was named the HSGameTime All-Inland Position Player of the Year after hitting .612 with 30 RBIs, 11 home runs and scoring 41 runs.
IF – Angelina Mcguire, Immaculate Heart Academy (Washington Township, N.J.), Senior 
McGuire batted .485 with 63 RBIs and scored 41 as the Blue Devils finished 31-2. She will attend Fairfield University.
OF – Jessica Adell, Ballard (Louisville, Ky.), Senior
Named Kentucky's Miss Softball, Ballard also earned her state's Gatorade POY honor after batting .591, stealing 40 bases and scoring 53 times. Her on base percentage was .614.
OF – Emily Griggs, Maize (Kan.), Senior
Griggs, who has signed with LSU, led Maize to the Class 6A tournament and an 18-5 record. She hit .597, struck out once, had seven doubles, 38 runs and 19 RBIs. She also had 18 stolen bases and was caught stealing twice.
OF – Jacqueline Roof, McCracken County (Paducah, Ky.), Senior
Roof was named Kentucky's 3A Player of the Year after batting .572 with 72 hits in 37 games. She had 35 extra base hits and a slugging mark of .976.

U – Allison Stewart, Olathe East (Kan.), Senior
A 5-foot-11 pitcher/first baseman, Stewart went 17-1 in the circle, posting a 0.82 ERA as East finished the season with a 24-1 record and a runner-up finish in the Class 6A state tournament. Stewart compiled 156 strikeouts while walking just 10 batters all season. At the plate, she batted .310 with four home runs, 38 RBIs and a .536 slugging percentage. She concluded her prep softball career with a state-record 168 RBIs. A two-time returning Gatorade State Player of the Year, she will attend Arkansas.
U – Kayla Andrews, Richland (Wash.), Senior
Andrews posted a 20-2 record in the circle along with a 1.21 ERA this past season, leading the Bombers (25-3) to a third-place finish in the Class 4A state tournament. She struck out 181 batters and walked just 17 in 121 innings. At the plate, Andrews batted .604 with seven home runs, 48 RBIs and a .941 slugging percentage. She will attend Mercer University.
U – Caitlin Plocheck, Deer Park (Texas), Senior
Her number of hits and batting average were down from her junior year, but her RBIs increased from 43 to 63 and many of those additional RBIs were clutch as Deer Park won the 5A state title. She hit .372 with nine doubles, three triples, nine homers and 63 RBIs. Plocheck was also 8-0 with a 1.12 ERA. She has signed with Lipscomb.
U – Andrea Kindrick, Russellville (Ark.), Junior
Kindrick batted .604 with seven home runs and 34 RBIs, plus was 21-3 with an 0.30 ERA and 296 strikeouts pitching. She was named the Gatorade Softball Player of the Year from Arkansas and the Arkansas Democrat-Gazette Softball Player of the Year. Kindrick is committed to Alabama.
U – Tamara "T" Statman, Horizon (Scottsdale, Ariz.), Junior
The Arizona commit was imposing in the circle (recording 289 strikeouts and winning 20 games with a 1.22 ERA ) and the batter's box (batting .515 with 52 hits, 25 RBIs, a .595 on-base percentage and a 1.437 OPS). She has committed to Arizona.