The 19th annual Desert Mountain Softball Invitational commences Tuesday March 15 and continues through Saturday March 19 at Horizon Park. This year's tournament  features 20 teams.
Pool play will be completed in three days this year rather than four with bracket play covering two days instead of one. The schedule and teams competing:
DESERT MOUNTAIN INVITATIONAL (March 15-19) 
All games at Horizon Park
TEAMS ENTERED: Basha, Chaparral, Highland, Mountain Pointe, Hamilton, Mountain Ridge, Desert Vista, Desert Ridge, Red Mountain, Millennium, Chandler, Desert Mountain, Cactus, Sahuaro, Corona del Sol, Horizon, Queen Creek, Pinnacle, Ironwood Ridge, Iolani, Hawaii.
POOL PLAY
TUESDAY MARCH 15 RESULTS:  Mountain Pointe 7, Highland 2; Hamilton 12, Mountain Ridge 0;  Desert Vista 7,  Desert Ridge 0; Red Mountain 14, Millennium 8; Sahuaro 3, Cactus 2;  Chaparral 8, Basha 2; Chandler 4, Desert Mountain 1; Corona del Sol 7, Basha 5; Highland 9, Mountain Ridge 2; Hamilton 11, Mountain Pointe 0; Sahuaro 7, Corona del Sol 0; Desert Vista 9, Chandler 2; Cactus 6, Desert Mountain 3; Chaparral 6, Millennium 4; Desert Ridge 14, Red Mountain 2.
WEDNESDAY MARCH 16 RESULTS: Queen Creek 9, Horizon 2; Cactus 3, Chandler 2; Pinnacle 8, Mountain Ridge 4; Red Mountain 12,  Mountain Pointe 5;  Ironwood Ridge 5, Desert Ridge 0; Chandler 6, Horizon 4; Queen Creek 7, Basha 6; Cactus 10, Basha 2; Pinnacle 7, Desert Ridge 0; Red Mountain 13, Desert Mountain 5; Mountain Ridge 5, Ironwood Ridge 1.
THURSDAY MARCH 17 RESULTS: — Queen Creek vs. Chaparral; Corona vs. Millennium; Iolani, Hawaii vs. Horizon;  Ironwood Ridge vs. Highland; Mountain Pointe vs. Desert Vista; Pinnacle vs. Iolani, Hawaii; Sahuaro vs. Hamilton; Chaparral vs. Corona; Horizon vs. Millennium; Iolani Hawaii vs. Desert Mountain; Ironwood Ridge vs. Queen Creek; Desert Vista vs. Pinnacle; Hamilton vs. Iolani, Hawaii; Highland vs. Sahuaro.
TOURNAMENT POOL PLAY WIN-LOSS RECORDS
Desert Vista 4-0, Hamilton 3-1; Pinnacle 3-1, Sahuaro 3-1, Chaparral 3-1, Red Mountain 3-1, Cactus 3-1, Ironwood Ridge 3-1, Queen Creek 2-2, Chandler 2-2, Corona del Sol 2-2, Highland 1-3, Mountain Pointe 1-3, Desert Ridge 1-3, Mountain Ridge 1-3, Millennium 1-3, Horizon 1-3, Desert Mountain 0-4, Basha 0-4.
BRACKET PLAY
CHAMPIONSHIP BRACKET (Seeds 1-8)
FRIDAY MARCH 18 RESULTS
Desert Vista 13, Chaparral 0;  Hamilton 6, Iolani, HI 4;  Pinnacle 10,  Ironwood Ridge 6;  Sahuaro 4, Cactus 2.
SATURDAY MARCH 19 RESULTS
Desert Vista 5, Hamilton 4; Pinnacle 5, Sahuaro 3 (8); Iolani 2, Chaparral 1; Ironwood Ridge 6, Cactus 3; Championship: — Desert Vista 2, Pinacle 1. 3rd-place –Hamilton 6, Sahuaro 0; 5th-place: Ironwood Ridge 15, Iolani, HI 8; 7th-place: Cactus 10, Chaparral 0.
CONSOLATION BRACKET (Seeds 9-16)
FRIDAY MARCH 19 RESULTS
Desert Ridge 11, Millennium; 2; Red Mountain 12, Corona del Sol 8;  Queen Creek 7,  Mountain Pointe 6; Mountain Ridge 2, Chandler 0.
SATURDAY MARCH 19 RESULTS
Red Mountain 5, Desert Ridge 4; Mountain Ridge 6, Queen Creek 11; Corona del Sol 6, Millennium ; Chandler 7, Mountain Pointe 0; 9th-place — Mountain Ridge 16, Red Mountain 2; 11th-place — Queen Creek 10, Desert Ridge 5; 13th-place:  Corona del Sol 6, Chandler 0; 15th-place  —  Millennium 9, Mountain Pointe 8.
TEAMS 17-20 BRACKET
SATURDAY MARCH 19 RESULTS
 Horizon 6, Basha 0;  Desert Mountain 11, Highland 1; Horizon 6, Desert Mountain 2; Highland 8, Basha 5.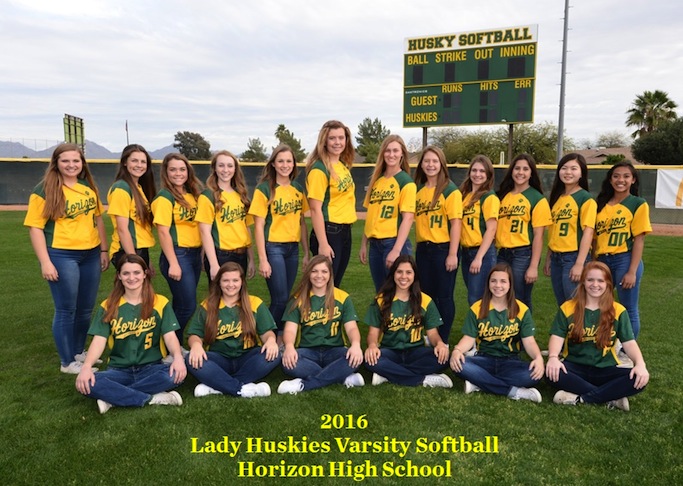 Desert Vista completed perhaps the best week in the school's softball history on Saturday afternoon.Jill Navarro's hard-hit grounder to the left side couldn't be handled and plated the winning run with two outs as Desert Vista edged Pinnacle, 2-1, to win the championship of the 19th annual Desert Mountain Invitational at Horizon Park. Navarro's double in the fifth inning in a 5-4 win over Hamilton drove in what proved to be the winning run in that game.
Desert Vista won all seven of its games in the tournament, opened the week with a 10-0 power-ranking win over Division II power Canyon del Oro and now stands 15-2 on the season. It was a collaborative effort to be sure with hitting and defense coming through at various times as well. Certainly, however, pitcher Brooke Hughes has to take a tad more credit for her effort during the week.
Hughes won four of the eight games — shutting out Canyon del Oro, Mountain Pointe and Chaparral and finishing with the title-game decision over Pinnacle. (15-3). She also earned the save for pitching partner Mara Kemmer in the semfiinals with two shutout innings. Hughes surrendered just three singles and walked noone against Pinnacle. She allowed one run iand niine hits in 27 innings this week — a tidy 0.26 earned-run average. Kemmer notched three pitching wins — Desert Ridge, Pinnacle in pool play and Hamilton. Her bat was torried in the leadoff spot as she was 6-of 8 in three games of bracket play.
Hughes was staked to a 1-0 lead in the second inning thanks to a two-out , RBI single by Kiara Kennedy. Both teams had runners in scoring position the rest of the way, but neither scored until Pinnacle evened things with a two-out innfield single from McKenna Adams in the top of the seventh. Adams hit scored Alex Cook, who opened the inning reaching on a hit by pitch.
Turnabout was fair play in the bottom of the inning as Pinnacle's Marissa Schuld, who pitched well enough to win, hit pinch-hitter Jackie Trauber with a pitch to open the inning. A single by Kemmer (three hits and a walk for the game), a sacrifice and intentional walk filled the bases with one out. Deserrt Vista cleanup hitter Kaylee Dietrich grounded sharply to third, but Pinnacle got the second out on a force at home. That brought up Navarro who hit the first pitch solidly off the glove of shortstop Karlee Johnson bringing home Kemmer with the winning run.
Pinnacle almost didn't reach the title game. The Pioneers were down 2-0 to Sahuaro in the seventh, but a Sahuaro throwing error with two outs in the seventh allowed for 2-2 tie. Pinnacle went on to win, 5-3, in eight innings. Schuld came on to secure the final two outs and earn the save for starter and winner CC Cook.