Congratulations to "T" for being named to the MaxPreps 2014 Underclass All-American Softball Team at a UT player.  This is T's 3rd consecutive year making the MaxPreps Underclass All-American Softball Team.
Juniors
P – Taran Alvelo, Bloom-Carroll (Carroll, Ohio)
Alvelo, 27-3 on the season, limited opponents to 45 base hits in 182 innings and posted a 0.46 ERA. In seven postseason games, she threw five shutouts (including 91 strikeouts in the final five games). She finished the season with 378 and has a career mark of 1,111. She finished the year with 10 no-hitters and 16 shutouts. She also batted .455 with 32 RBIs and seven home runs. Alvelo has committed to Washington.
P – Maddie Damon, Kasson-Mantorville (Kasson, Minn.)
Damon, who was 26-0 as a junior and led Kasson to the state 2A title, had more than 1,175 strikeouts in three seasons. She pitched 20 shutouts, six no-hitters, 10 one-hitters and allowed just 36 base hits. Damon batted .377 with 26 RBIs. She has committed to Purdue.

P – Rachel Garcia, Highland (Palmdale, Calif.)
Garcia led Highland to the CIFSS D-3 quarterfinals with a 21-3 pitching record. She also had a 0.36 ERA with 323 strikeouts in 156 innings. At the plate, Garcia batted .492 with nine homers and 36 RBIs. She has committed to UCLA.
P – Colette Robert, McLoughlin (Milton-Freewater, Ore.)
Robert led McLoughlin to the Oregon 4A state title and was named the state's 4A Pitcher of the Year. She won 23 of 26 games and walked just nine while striking out 257 in 171 innings. Her ERA was 0.99. Robert, who has committed to New Mexico, also batted over .700 and drove in 50 runs with 25 extra base hits.
P – Abby Langkamp, The Woodlands (Texas)
Langkamp went 26-1 with a 1.69 ERA and 184 strikeouts (only 35 walks) over 156.2 innings this season as The Highlanders were 39-4. She has committed to Baylor.
P – Brynne Fitzpatrick, Valley Christian (San Jose, Calif.)
Fitzpatrick allowed an average of two hits per game and more than two strikeouts per inning in winning 21 games and posting a 0.60 ERA. She had 381 strikeouts (186 innings), pitched five no-hitters and eight one-hitters. She is also the only pitcher to beat No. 3 ranked Archbishop Mitty (30-1) in 2014. She has committed to California.
P – Cheyenne Eggens, Mathews (Vienna, Ohio)
Eggens had 419 strikeouts in 218 innings to go along with a 0.38 ERA and a 28-4 record. In a 1-0, 13-inning victory over Bristol, Eggens struck out 28. She has committed to the University of South Florida.

P – Tara Trainer, Lebanon (Ohio)
Trainer, coming off knee surgery, went 19-1 this season with a 0.45 earned run average, striking out 256 batters in 123.2 innings. Her only loss came in the Division I state semifinals.
P – Kendra Friedt, Southington (Conn.)
Freidt went 24-0 and in 137 innings, she allowed just seven runs — five earned, which translates to a 0.25 ERA. She yielded 22 walks while fanning 247. Of the 43 base hits she allowed, only three went for extra bases. Friedt, who has committed to Boston, also batted .500 as Southington won the large school state title.
P – Mary Williams, Cape Fear (Fayetteville, N.C.)
Williams won 26 games and led Cape Fear to the 4A state final. She batted .483 and drove in 43 runs. In 166 innings, she recorded 247 strikeouts.
P – Regan Green, Laurel (Del.)
Green led the Bulldogs to a 19-2 record and a second-consecutive state championship this past season. A returning first team all-state selection as named by The News Journal, Green owned a 16-2 record with two saves, a 0.50 ERA and 269 strikeouts against just 17 walks in 139 innings pitched. Also a first baseman, she batted .397 with three home runs, nine runs scored and 19 RBIs.
P – Brianna Jones, Coffee County Central (Manchester, Tenn.)
Jones was 24-6 with a 0.48 ERA and struck out 372 in 206 innings. She pitched six no-hitters and seven one-hitters. She struck out 20 or more twice.
P – Lace Smith, Bloomingdale (Valrico, Fla.)
Smith posted a 0.79 ERA and a 25-2 record for the Bulls. She struck out 293 batters and hit .350 to lead Bloomingdale to its first state title since 1993. She has committed to Buffalo.

P – Maci Ingram, Nashville (Ill.)
The 2014 Belleville News-Democrat Class 1A-2A Softball Player of the Year, Ingram posted a 28-3 record and a 0.63 ERA for the Hornettes during her junior season. She also struck out 409 batters in 200 innings.
C – Stephanie Abello, Benet Academy (Lisle, Ill.)
Abello led Naperville to a 30-3 record as she hit 22 home runs and drove in teammates 63 times. She batted .481 and was named the Naperville Sun's Player of the Year. She needs seven home runs to set a new state record. She has committed to Illinois.
C – Ari Samaniego, Desert Edge (Goodyear, Ariz.)
Samaniego once again put up major stats: 16 homers, 15 doubles, 66 RBIs, .682 batting average, 1.582 slugging percentage and 2.299 OPS. With numbers like that, it's easy to understand why the Scorpions were 22-6.
C – Reagan Hathaway, Northwest (Olathe, Kan.)
Hathaway hit .759 with 11 doubles, six homers, 36 RBIs and already holds eight career school records with one year remaining. She has committed to Texas.
C – Brooke Samios-Uy, Eastern Tech (Baltimore)
She was the unbeaten team's top hitter with a .671 batting average and 44 RBIs.
IF – Tannon Snow, Chino Hills (Calif.)
Snow collected 61 hits and drove in 58 runs to lead Chino Hills to a 30-win season. She scored 43 times and had 21 doubles and 14 home runs. She has committed to Washington.
IF – Julia Hollingsworth, Ennis (Texas)
Named the Dallas Morning News Player of the Year, Hollingsworth scored 83 runs in 44 games and batted .638 with 45 RBIs as Ennis reached the state finals.
IF – Vada Sherrill, Alexander Central (Taylorsville, N.C.)
The state's first "60-60" player with 60 hits and 60 runs scored, Sherrill led Central to another state title, a 35-0 record and a No. 2 national finish in the final Xcellent 25. She also stole 51 bases and was named the Gatorade State Player of the Year.
IF – Brianna Tautalafua, Carson (Calif.)
Named the Wave Newspaper Group's Player of the Year for the second-straight year, Tautalafua once again put up big numbers: 19 homers, 60 RBIs, .561 average and 63 runs in 33 games. She had a .669 on-base average, a 1.402 slugging percentage and a 2.071 OPS. She has committed to UCLA.
IF – Sydney Romero, Vista Murrieta (Murrieta, Calif.)
Committed to Oklahoma, Romero was named the HSGameTime All-Inland Position Player of the Year after hitting .612 with 30 RBIs, 11 home runs and scoring 41 runs.
IF – Mary Kathryn Bonamy, Spain Park (Hoover, Ala.)
Bonamy was named the Birmingham Metro Area Player of Year. Bonamy, who has verbally committed to North Carolina, led the Jags (49-17) with a .419 batting average and a .911 slugging percentage. She hit 19 home runs, which was tops in the state this season and drove in 65 runs while scoring 42.
IF – Taria Paige, East (Anchorage, Alaska)
Paige led the Thunderbirds to a 27-0 record and another state title. She batted .741 with 13 home runs, 48 runs scored, 44 RBIs and a 2.086 slugging percentage. She helped East win 57 consecutive games and a trio of state championships dating back to 2012.
IF – Aubrey Leach, The Woodlands (Texas)
Leach batted .589 with nine doubles, eight triples, six home runs, 49 runs batted in and 51 stolen bases. She scored 66 runs. Leach has committed to Tennessee.
IF – Alyssa DiCarlo, Mountain Ridge (Glendale, Ariz.)
Committed to Georgia, DiCarlo homered 16 times and drove in 63 despite being walked 21 times.
OF – Alyssa Palomino, Mission Viejo (Calif.)
Palomino led Mission Viejo with 17 home runs, 36 runs and 34 RBIs to earn her a second-straight Orange County Register Player of the Year honor. With 42 career home runs, she sits four shy of tying the Orange County record set by El Toro's Lauren Chamberlain. She has committed to Arizona.
OF – Amanda Lorenz, Moorpark (Calif.)
The outfielder is ranked as the No. 1 junior prospect in the nation by StudentSportsSoftball.com. In 30 games this spring, she hit .642 with eight home runs, 22 doubles and collected 68 base hits. She scored 48 times and had base hits in all but two games. She has committed to Florida.
OF – Faith Lowry, Gibbs (Corryton, Tenn.)
You want runs? Lowry scores them – 84 to be exact in 55 games ,as Gibbs went 50-6 on the season. She batted .604 and collected 113 base hits. She also stole 74 bases in 75 attempts.
U – Andrea Kindrick, Russellville (Ark.)
Kindrick batted .604, with seven home runs and 34 RBIs and was 21-3 with a 0.30 ERA and 296 strikeouts pitching. She was named the Gatorade Softball Player of the Year from Arkansas and the Arkansas Democrat-Gazette Softball Player of the Year. Kindrick is committed to Alabama.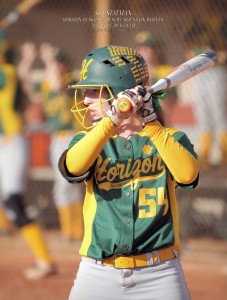 The Arizona commit was imposing in the circle (recording 289 strikeouts and winning 20 games with a 1.22 ERA) and the batter's box (batting a .515 with 52 hits, 25 RBIs, a .595 on-base percentage and a 1.437 OPS).