American Family Insurance ALL-USA Preseason Softball Team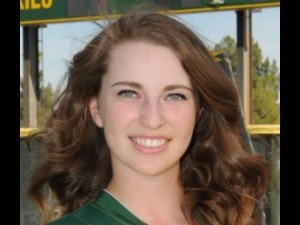 Horizon's T Statman pic #20 MULTI-PURPOSE
http://usatodayhss.com/2015/american-family-insurance-all-usa-preseason-softball-team
By: Brentt Eads, FullCountSoftball.com March 4, 2015
USA TODAY High School Sports is proud to announce the inaugural American Family Insurance ALL-USA Preseason Softball Team chosen by Brentt Eads ofFullCountSoftball.com. He selected the 20-player team based on talent, performance from last year and expected excellence on the field this spring.
Softball has always been strong in the West and that holds true for the ALL USA team, which has seven players from California and another from Arizona.
Only two other states, Texas and Ohio, have more than one pick (each had two), but, showing that fast pitch is growing all over the nation, states such as Delaware, Indiana, Kansas, North Carolina, Pennsylvania and Virginia also have elite players on the preseason team.
Note that more than a half dozen states, including Georgia, Missouri and Oklahoma, play their high school campaigns in the fall so players who've already finished their 2014-15 seasons won't be recognized on this list, but will be included in the year-end ALL-USA Softball Team.
That group includes the top senior pitcher in the nation, Kelly Barnhill, who led Pope (Marietta, Ga.) to a state championship, was selected to the U.S. Junior National Team and has signed with national champion Florida.
PITCHERS (5)
P Taran Alvelo
School: Bloom-Carroll (Carroll, Ohio)
Year: Senior
One of the most feared pitchers in the country, Alvelo was the Gatorade State Player of the Year after leading her team to the Ohio Division III finals, where she pitched 13 2/3 innings of no-hit ball but lost on an unearned run despite 24 strikeouts. Alvelo, who she throws in the high 60's, was chosen to the Junior National Team and has signed with Washington.
P Rachel Garcia
School: Highland (Calif.)
Year: Senior
Garcia emerged as a national prospect when she was the Gatorade State Player of the Year as a sophomore, going 22-2 with a 0.50 ERA in the circle and hitting .709 with 13 home runs. She's a pure heat pitcher who also had a strong junior season, finishing 21-3 with a 0.36 ERA and 325 strikeouts in 156 innings. The UCLA signee also was selected to the Junior National Team.
P/1B Regan Green
School: Laurel (Del.)
Year: Senior
Green has led her high school to back-to-back state titles and is a big talent from a small state who could pitch anywhere and win. Her deadly riseball and dropball helped her go 16-2 with two saves, a 0.50 ERA and 269 K's in 139 innings to earn Gatorade State Player of the Year honors. She is headed to Mississippi State.
P Taylor McQuillin
School: Mission Viejo (Calif.)
Year: Senior
McQuillin hit an unbelievable trifecta last year: she was honored as the Gatorade National Softball Player of the Year and led her high school and club team to championships. She has a nasty drop curve and strong movement on her pitches. She went 25-1 last season with a 0.69 ERA and 316 K's with only 17 walks in 173 3/4 innings. The lefty pitcher has signed with Arizona and is rated as the No. 3 prospect in the 2015 class byFullCountSoftball.com. Mission Viejo is ranked No. 1 in the USA TODAY High School Sports/National Fastpitch Coaches Association Preseason Super 25.
P/UT Tara Trainer
School: Lebanon (Ohio)
Year: Senior
Trainer had a dominating freshman year and then missed most of her sophomore season after a near-fatal car crash. She bounced back in 2014 in a big way, going 19-1 with a 0.45 ERA and 256 K's for a team that went to the state semifinals before losing to the eventual state champion. The Indiana signee has great speed, movement and control of her pitches.
CATCHERS (2)
C Paige Halstead
School: Los Osos (Calif.)
Year: Senior
Halstead is a 6-foot-1 athlete who also can play shortstop and outfield, but is a franchise-type backstop. She's a lefty power hitter who also hits for average and batted .500 last year with 30 RBI. Defensively, she has a cannon for an arm and is smooth and fluid behind the plate. The UCLA signee also was invited to play on the Junior National Team.
C Bailey Hemphill
School: St. Thomas More (Lafayette, La.)
Year: Junior
As a sophomore, the power-hitting catcher led her team to a state title, hitting .630 with 17 home runs and 56 RBI. A two-time first-team all-state honoree, the Alabama commit has great hitting mechanics and drives the ball to all fields. Behind the plate, she has a strong arm and excels in blocking pitches and picking off baserunners. The Louisiana standout is rated as the No. 3 overall prospect and top positional player in the 2016 class byFullCountSoftball.com
INFIELDERS (6)
2B/OF Aubrey Leach
School: The Woodlands (Texas)
Year: Senior
Leach is one of the best leadoff hitters in the nation and can slap hit or drive the ball with power. She draws a lot of walks, too, and coaches rave about her on-field smarts. The Texan hit .589 with 49 RBI, had 66 runs scored and hit six home runs. The Tennessee signee also showed her speed by stealing 51 bases and smacking eight triples. The Woodlands is ranked No. 3 in the preseason Super 25.
1B Kyra Lockhart
School: Scotch Plains-Fanwood (Scotch Plains, N.J.)
Year: Sophomore
Lockhart is one of only two sophomores to make the list and she's rated so highly because she's a power-hitting machine who can also hit for average. The Alabama commit batted .481 as a freshman with an on-base percentage of .593. Her pitch selection is so good that she didn't strike out once last year. Defensively, she's light on her feet and is a prototype first baseman.
SS/2B Sydney Romero
School: Vista Murrieta (Murrieta, Calif.)
Year: Senior
Younger sister of Michigan All-American Sierra Romero, this California senior is as equally skilled as her sibling. The Oklahoma signee hit .612 with 63 hits, 11 home runs and a strong 1.106 slugging percentage last season. She is rated the No. 4 overall prospect in the senior class by FullCountSoftball.com and was also invited to play on the Junior National Team this summer.
SS Vada Sherrill
School: Alexander Central (Taylorsville, N.C.)
Year: Senior
Sherrill was the sparkplug for the No. 1 team in the final USA TODAY Sports/NFCA poll last year and was the first player in state history to have 60 hits and score 60 runs in the same season. She led the school to a 35-0 record batting .526 while going 52-for-54 in steals. The record-setting year resulting in her being named the Gatorade State Player of the Year and her father and coach, Monte Sherrill, was selected as the USA TODAY National Coach of the Year. Taylorsville opens the season at No. 4 in the preseason Super 25.
2B Kiana Sherlund
School: Fairfax (Va.)
Year: Senior
Sherlund is a triple-threat lefty hitter who can slap, drag or hit with home run power. The North Carolina-bound senior batted .630 with a 1.041 slugging percentage, stole 26 bases and, most impressively, went 17-for-24 (.708 average) with runners in scoring position. The speedy Virginia all-state pick also set her school's indoor track record in the 55-meter dash and has been clocked in a time of 2.60 seconds from home to first.
2B Taylon Snow
School: Chino Hills (Calif.)
Year: Sophomore
Snow had an explosive freshman campaign, tying a section record with 72 hits while batting .567 for a team that reached the semifinals. She reached base 78 times and scored 39 runs in 34 games, but her most impressive stat was having multi-hit games in her last 16 contests, including four playoff games. The Washington commit is rated as the top position player in the 2017 class by FullCountSoftball.com and No. 2 overall.
OUTFIELDERS (3)
OF Hannah Edwards
School: Catasauqua (Pa.)
Year: Junior
Edwards is a five-tool player with great speed. She has been clocked at 2.60-2.65 seconds from home to first and can play the short game (bunt, chop and soft slap) as well as power slap and swing for the fences. The Pitt verbal is a two-time all-state pick and has a .619 batting average in high school. She's also a standout field hockey player and has earned all-area honors in that sport.
OF Amanda Lorenz
School: Moorpark (Calif.)
Year: Senior
Lorenz is rated as the No. 1 recruit in the 2015 class by FullCountSoftball.com. She is considered by many as the best pure hitter at the high school level and batted .642 last year with 30 RBI, eight home runs and 22 doubles. A fierce competitor, she's a lefty who is so feared she has been walked intentionally to start off games. The So Cal senior has great bat control and advanced softball instincts and is headed to Florida.
OF Alyssa Palomino
School: Mission Viejo (Calif.)
Year: Senior
Palomino plays on the same championship team as pitcher Taylor McQuillin and is also headed to Arizona. She's one of the most dangerous power hitters at the high school level and clubbed 17 home runs last year after hitting 18 as a sophomore. The strong athlete also hit .506 with 34 RBI and has hit home runs of more than 300 feet before. She was picked as the Orange County Player of the Year last year and was another player invited to play on the Junior National Team.
MULTI-PURPOSE (4)
P/UT Miranda Elish
School: Crown Point (Ind.)
Year: Junior
Elish was the Indiana Gatorade Player of the Year as a sophomore after going 29-1 with a 0.31 ERA and a batting average of .480. The Oregon commit is a power pitcher with good down movement and keeps batters off-balance. She earned all-state honors and is ranked as the No. 2 overall prospect in the 2016 class by FullCountSoftball.com.
P/UT Brittany Finney
School: Bishop Carroll (Wichita, Kan.)
Year: Senior
Finney went 12-0 in the circle with a 0.46 ERA and gave up just three runs all season while batting .553, knocking in 47 runs and hitting a team-leading 12 home runs to lead her team to a fourth consecutive state title. The Oklahoma commit throws in the upper 60's and has a drop and drop curve that makes her tough to hit.
P Samantha Show
School: East Bernard (Texas)
Year: Senior
Show was the Lone Star State's Gatorade Player of the Year as a sophomore after going 30-3 with a 0.65 ERA. The Texas A&M signee missed much of the 2014 season because of a school transfer issue. When she returned, she didn't allow an earned run all season until the state title game. She finished with a 14-1 record, 0.33 ERA and 173 K's in 83 2/3 innings while also hitting an amazing .732 with six home runs.
P/IF Tamara "T" Statman
School: Horizon (Scottsdale, Ariz.)
Year: Senior
Statman is a dual threat in that she won 20 games with 289 K's and also batted .515 with 52 hits and a .595 on-base percentage. In the circle, the Arizona signee has good movement on her pitches and mixes speeds well; at the plate she is a gap hitter with power. Off the field, Statman is a third-degree black belt in taekwondo and started "T K's for Skin Cancer" to raise money for each strikeout she records.
FIVE MORE TO WATCH:
SS Kaitlyn Alderink, Keller (Texas), Sr.
P/3B Darby Bishop, Newton County (Decatur, Miss.), Sr.
P Mariah Lopez, Saugus (Calif.), Jr.
3B/SS Shannon Rhodes, Brewer (Fort Worth), Jr.
P/UT Sydney Smith, Maple Grove (Minn.), Sr.